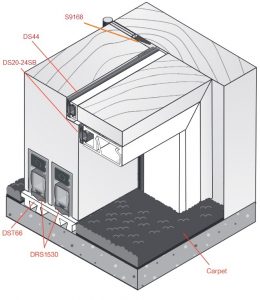 When designing a recording studio, a door opening presents a real acoustic challenge as the door must provide a barrier between the inside of the studio room and the unwanted noise outside. To do this on a temporary basis and allow easy access in and out of the studio, they need to have the gap around the door totally sealed air tight every time it is closed. Even a 1% gap can reduce the acoustic effectiveness of a door by up to 50%.
There are four critical areas to focus on:
1. Ensure your door and frame are constructed of the correct materials and the door sits square in the frame
2. Fit suitable perimeter seals to the frame on both vertical jambs and across the head horizontally at the top
3. Have a suitable automatic door bottom seal fitted to the bottom of the door. Definitely include anti-flanking seal attenuation frame plates, to prevent noise and air bypassing the seal
4. If required fit a suitable threshold plate on the floor surface across the door opening width. To create a bulkhead seal system you can consider fitting the perimeter seal also to the threshold
Door Seals of Australia can supply all these products and can advise the most appropriate acoustic seal solutions to suit any door types being considering for recording studio projects.
For further information, Door Seals of Australia provides a door and window sealing advisory service with a wide range of seal solutions to suit hinged, pivoting, sliding, bi-parting and folding doors and windows. Visit www.doorseals.com.au, or email, or call 07-3856-6660