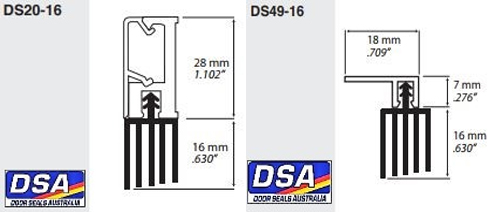 For certain projects, sealing the gaps around doors and windows can prove quite challenging and this need has led to Door Seals of Australia providing an S6701 gasket seal with five fins, which has a very high effectiveness capability compared to a traditional single fin gasket.
The TPE-V gasket seal features high elasticity, excellent resistance to abrasion and seals against noise, weather, wind, fire, smoke and vermin.
It can be insert into slotted timber or aluminium profiles, plus is also available for use within a straight carrier (DS20-16) or 90deg angled carrier (DS49-16).
This gasket seal has been used successfully on doors which are hinged, pivoting, sliding, folding and tilting. The angled cut means the gasket seal interfaces gradually with the closing surface to form an airtight seal, unlike any other gasket seal available.
Besides being used as a perimeter seal, it be fitted to the door bottom and here are a couple of pictured examples of installations using single or double seals engaging with a DSA DST38 floor mounted threshold.
For further information, Door Seals of Australia provides a door and window sealing advisory service with a wide range of seal solutions to suit hinged, pivoting, sliding, bi-parting and folding doors and windows.
Visit www.doorseals.com.au.